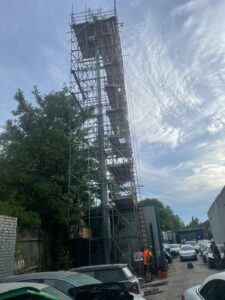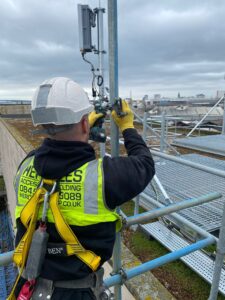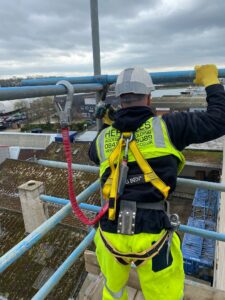 5G is the newest, fastest generation of mobile networking.
5G allows you to enjoy vastly improved, seamless performance, whether you're watching a film or joining a video conference. It's changed the world around us – and it's helping us live better through 5G enabled healthcare, smart buildings and smart cities.
5G is expanding across the UK as the technology is implemented. Vodafone 5G infrastructure upgrades are expected to boost the UK economy by £158 Bn.
5G is around 10 times faster than 4G. It's designed to work at average speeds of 150-200Mbps, and peak speeds can reach above 1Gbps.
SCOPE OF WORKS:
Hercules Nationwide provide nationwide telecommunication scaffolding that enable telecommunication Engineers to maintain and upgrade Vodafone's critical telecommunications infrastructure.
Working with our client Vodafone, Hercules Nationwide, the UK's largest nationwide telecommunications scaffolding specialist, were tasked with rolling-out nationwide telecommunication scaffolding installations to access high level monopoles, at short notice, in a variety of difficult to access areas.
These telecommunication scaffolding projects were very high profile, large in scale & involved a considerable quantity of specialist telecommunication scaffolding & experienced telecommunication scaffolding trained operatives.
Working to critical deadlines, the works were not to interfere with the day to day running of the SP's properties.
To provide scaffold design engineer drawings with all loading calculations & risk assessments.
To provide bespoke RAMS & Sequence of Works for client & SP approval.
CHALLENGES:
To design telecommunication scaffolding solutions to mitigate any risk to the General Public, 1/3rd party contractors & our operatives working near the target sites whilst the roll-out programme was in operation.
Provide full RAMS (Method Statements & Risk Assessments) to demonstrate fully how Hercules Nationwide would plan & implement SSOW to mitigate any risks & these to be approved by Vodafone H&S.
Working at average monopole heights of 25 metres.
Time sensitive schedule to fit in with the programming of the SP's & Client
Restricted Working Hours & very tight deadlines.
Consideration given to high winds & potential inclement weather.
Implementation of client approved safety exclusion zones to protect the General Public & critical infrastructure assets.
To meet all the key performance targets (KPT's) as set by Vodafone, SP & Client
STRATEGY:
From receipt of client brief, Hercules Nationwide undertook physical site surveys to determine all access & telecommunication scaffolding Working at Height considerations.
Our surveyors were also accompanied by Hercules Nationwide's Advanced Scaffolding Supervisors acting as Team Leaders, to ensure that the scope of the works was fully detailed, understood & could be executed.
Prior to commencing and going on to site, we carried out our own internal pre-start meeting to fully brief all teams as well as review method statements, risk assessments and the schedule of works.
Telecommunication scaffolding Engineer Drawings where required for specific sites with a detailed specification design.
All scaffold was erected as per NASC TG20:21.
The scaffolding was installed as per: SG4:15 – Preventing Falls in Scaffolding Operations.
SG34:17 – Guidance on Protection of the Public.
To achieve the tight deadlines, teams of 6 telecommunication scaffolding engineers were tasked with completing each of the monopoles over a 48-hour period.
Each telecommunication scaffold included ladder access throughout, trap doors, safety ladder gates, boards tied down, double handrails on all working lifts, debris netting on all working lifts, safety scaf-tags fitted & dated by the ladder access points with Handing Over Certificates emailed to the client with photographs on completion.
Drop Zones – Hercules Drop Zone Policy as adopted & implemented with our clients.
The Client and Hercules Nationwide's project directors signed off the methodology / RAMS / SSOW / Sequence of Works so that all operatives and stakeholders fully understood the processes involved.
The works were supervised by Gold Card Supervisors / SMSTS throughout.
If you require any further assistance, please do not hesitate to contact us on: 0800 772 3113.