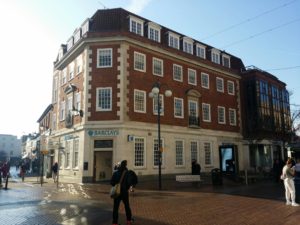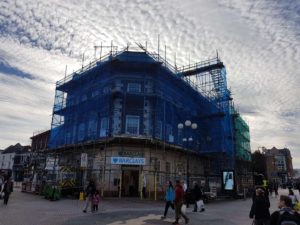 AffinityFM, a leading provider of high quality Facilities Management & construction services for public and private clients, appointed Hercules Nationwide Ltd as the scaffolding access contractor for the Barclays Bank refurbishment roll out programme, including one of its' flag ship branches – Kingston Upon Thames.
Scope Of Works:
The external refurbishment included access for all trades including major roof works. Scaffold alarms, CCTV & Monitoring.
Challenges:
Firstly, the Kingston Upon Thames branch is situated in a very busy pedestrianised area with one of the highest footfalls in the UK. The large 4 storey building has 4 elevations; 3 elevations facing busy pedestrianised areas & adjoining retailers. In addition, the bank remained open and fully operational during the works.
Secondly, 2 elevations of the bank were predominantly glazed, requiring bespoke anchoring detail. As additional works were required during the programme, the scaffold would also need to be adapted to suit.
Strategy:
Before the works began, we held a pre-contract meeting with the client to ensure that the scope of the project was fully detailed and understood. Prior to commencing and going on site, we carried out our own internal pre-start meeting to fully brief all teams as well as review risk assessments, method statements and the programme of works.
Scaffold Design Engineer drawings with full calculations were provided. Safety pedestrian fans & crash decks over cash point machines & entrances.
Liaison with Royal Borough of Kingston Upon Thames Council re Traffic Management & licensing.
Liaison with adjoining retailers.
Out of hours working & exclusion zones to eliminate the risk of working above pedestrians.
Emergency escape routes from roof via installed Haki staircases.
Supervised by Gold Card Supervisors / SMSTS throughout.
Result:
Hercules' experience in major scaffolding contracting meant that we understood the clients requirements and had the skills and attitude to deliver the project on time and to a very high standard.
There was minimal disruption to pedestrians, bank customers & the adjoining retailers.
Following the installation, the Hercules team fully commissioned the installation and provided the client with Handing Over Certificates & 7 day inspections.
During the installation, refurbishment & dismantle the Bank remained in operation.
The project was delivered 2 weeks ahead of schedule and within budget.