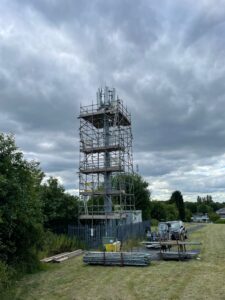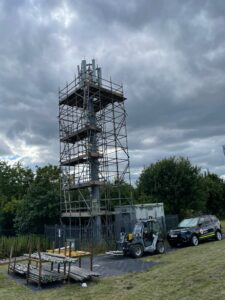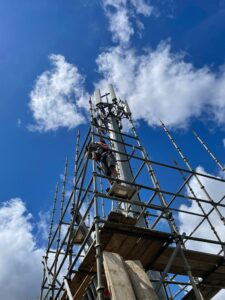 The UK's leading mobile telecommunication providers trust Hercules Nationwide to provide high quality telecommunications scaffolding that is essential to maintain & enhance their infrasture
Hercules Nationwide helps our clients connect the UK's cities, towns and countryside with our turnkey telecommunication scaffolding access solutions.
5G rollout, the Internet of Things (IoT) and digital connectivity is driving new opportunity for individuals, industries and public services. Hercules Nationwide's sharper thinking, innovative solutions & working at pace are helping shape this landscape.
Hercules Nationwide telecommunications scaffolding was quick to assist a major client with an urgent 5G maintenance issue.
Scope Of Works:
Hercules plays an important role in the UK's connectivity by providing our clients with safe & reliable access to critical telcoms infrastructure, nationwide.
Working with our client, Hercules Nationwide, the UK's largest nationwide telecommunications scaffolding specialist, were tasked with rolling-out nationwide telecommunication scaffolding  installations to access high level monopoles, at short notice, in a variety of difficult to access areas.
Scaffolding to provide access for an important monopole mast upgrade
Hercules Nationwide telecommunication scaffolding required to access 360 degrees underside of the mast antennas
Provide Structural Engineer surveys & Scaffold Design Engineer drawings & full loading calculations.
Access equipment across ¼ mile of wet grass and limit any turf damage to an absolute minimum.
Platform heights at 18 metres to be installed & completed within 48 hours.
Challenges:
Time sensitive schedule to fit in with the programming of the SP's & Client
This large scale telecommunications scaffolding installation to be completed within 48 hours.
Transport scaffolding materials over ¼ mile of wet grass, following extensive heavy rain.
The use of heavy vehicle's was not permitted due to possible turf damage.
To meet all the key performance targets (KPT's) as set by Vodafone, SP & Client
Strategy:
Before the works began, we held a pre-contract meeting with the client to ensure the scope of the project was fully detailed and understood.
Identify & agree all access & telecommunication scaffolding Working at Height considerations.
Scaffold Design Engineer drawings with full calculations were provided.
Prior to commencing and going on site, we carried out our own internal pre-start meeting to fully brief all teams as well as review risk assessments, method statements and the programme of works.
The works would be completed using fully trained CISRS RF Cert & Roof Top Cert operatives
Provide, install & later dismantle grass vehicle protection mats.
Using Hercules Nationwide's all terrain fork lift truck we were able to transport the equipment to the base of the monopole.
All scaffold was erected as per NASC TG20:21.
The scaffolding was installed as per: SG4:15 – Preventing Falls in Scaffolding Operations.
SG34:17 – Guidance on Protection of the Public.
Supervised by Gold Card Supervisors / SMSTS throughout.
Result:
Hercules Nationwide's experience in major telecommunication scaffolding meant that we understood the client's requirements and had the skills and attitude to deliver the project on time and to a very high standard.
The Hercules monopole telecommunications scaffolding was installed in 48 hours on time & to budget.
There was minimal disruption to the SP.
Following the installation, the Hercules team fully commissioned the installation and provided the client with Handing Over Certificate.
Hercules Nationwide telecommunications scaffolding division met all of the clients KPI targets.